Matthew A. Pifer, MD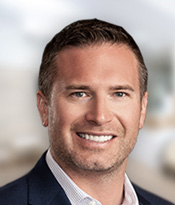 Matthew A. Pifer, MD
Dr. Matthew Pifer is a board certified Orthopaedic surgeon that practices in the greater Santa Barbara, CA areas including Oxnard, Ventura, Goleta, and Santa Maria. He is fellowship trained in arthroscopic surgery and sports medicine. Dr. Pifer specializes in complex minimally invasive arthroscopic surgical techniques, as well as other general orthopaedic issues.
Dr. Pifer attended college on an NCAA Football scholarship at Ashland University in Ashland, OH. He was a 4 year starter and is one of the top highest scorers in the school's football history. During that time, Dr. Pifer doubled majored in Chemistry and Molecular & Cellular Biology and received numerous honors for academics as well as his football career.
Dr. Pifer went on to attend medical school at the highly ranked Case Western Reserve University in Cleveland, OH. The majority of his Orthopaedic medical school training was spent at the Cleveland Clinic, which is currently ranked #3 in the nation for Orthopaedic surgical programs.
Dr. Pifer completed his Orthopaedic surgical residency program at Beaumont Hospitals in Royal Oak, MI. Beaumont is widely known as one of U.S. News top-ranked hospitals in the nation and has one of the highest surgical volumes for Orthopaedic procedures in the country. During this time, Dr. Pifer mentored under the notable Dr. Kyle Anderson, the NFL Detroit Lions head team physician.
After residency, Dr. Pifer furthered his training in a specialized fellowship program in Orthopaedic sports medicine and arthroscopic surgery in San Diego, CA at the renowned Kaiser Permanente Orthopaedic Sports Medicine group.
Dr. Pifer utilizes a new innovative surgical technique called Single Portal Arthroscopy. This is used in both knee and shoulder arthroscopic surgeries. This allows him to perform surgery with fewer (normally one) incision that prior surgical approaches called for more.
Dr. Pifer's practice not only includes the use of cutting edge surgical treatment, but also non-operative use of biologics (such as PRP injection) and cellular therapies to treat injuries.
Through Dr. Pifer's career he has provided care to countless recreational, high school, college, and professional athletes and has authored countless articles, scientific papers, and book chapters on sports-related injuries and general Orthopaedic topics.
Dr. Pifer's surgical expertise and innovative ideas have lead to collaborations with medical device companies to consult, develop future surgical instruments, and educate other Orthopaedic surgeons.